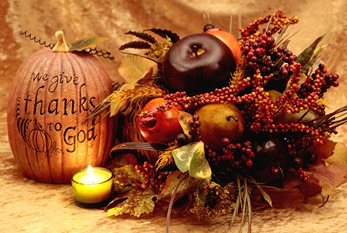 Nostalgia
is defined in Websters Dictionary as a yearning to return home (being homesick).
Evidently this sentiment is not so true for some. I heard on the Today show this morning that Thanksgiving is defined as "obligatory dysfunctional family get-together", another one I heard this morning as FFF "Forced Family Fun". I had a good laugh over both of these definitions.
This time of year always makes me nostalgic. How many of you, like myself, remember waking up on Thanksgiving morning to the yummy smell of turkey baking in the oven? My Mom would be in the kitchen at 5 a.m. putting the turkey in the oven. The day before the house was full of the delicious aromas of pumpkin, mincemeat, and pecan pies baking.
I have so many wonderful memories of Thanksgiving and sharing with family and friends over the years. When I was growing up we always had a houseful of Aunts, Uncles and lots of cousins (14 to be exact); plus our family of four children, Mom and Dad and of course Grandma and Grandpa.
After I got married and moved away from home we made our own Thanksgiving memories. I remember one particular Thanksgiving when we were stationed in Florida near Fort Walton Beach. Several families of us went to the beach in Destin, Florida and cooked fish the guys caught on our grills. We had a blast. It was quite different from the snowy Thanksgivings of my childhood. No matter where we were stationed we always had a houseful at Thanksgiving. We invited the young airmen who had no family there. Those were such great and memorable times.
What are some of your most memorable Thanksgivings? What is your favorite family Thanksgiving tradition? Would love for you to share them with us in the comments section.
What are some of your favorite Thanksgiving dishes? I grew up with Pumpkin Pie. How about you?
When we were stationed in Wichita Falls, Texas I came across this recipe in our local newspaper . It became one of our families favorites.
Sweet Potato Pie
Boil one large sweet potato and one small one in jackets until tender. Run cold water over them and peel. Mash with a potato masher until smooth. Add 1 stick butter (room temperature), 2 cups sugar "if it isn't sweet enough it isn't fit to eat" (according to the author of this recipe) 1 teaspoon cinnamon and nutmeg, pinch of salt, 4 eggs (beaten), 1 can condensed milk, undiluted.
Mix well and pour into a 9 inch unbaked pie crust. Bake @ 325 degrees for 35 to 40 minutes until lightly browned and top is set.
Nanny's Cornbread Dressing
I bake my own cornbread a day or two ahead of time, crumble and let it dry out a little. If I'm having a 20 plus pound turkey. I bake a 9 x 13 pan of cornbread.
In a large bowl add to the crumbled cornbread, two stalks of diced celery, 1 med chopped onion, 2 can fresh oysters (chopped), 1 can chopped water chestnuts, 4 eggs (beaten), 2-3 cups turkey broth,; sage, salt and pepper to taste.
Mix all ingredients together and pour into a lightly greased baking dish. Bake @ 350 degrees, 25 to 30 minutes until golden brown on top I usually do not stuff turkey with dressing.
Note: Depending on the density of your cornbread you might have to adjust the amount of broth up or down.
I hope you enjoy these recipes as much as my family does. Please share your favorite Thanksgiving recipe with us...
Until next time Hugs and Best Wishes
Nanny